On Tuesday I made myself another blog called Me & My Memes because I felt like my ME blog, Happy At Home, was being lost amongst all the games I participate in. So on Wednesday I started using it for my memes that I play. I've already had 30 comments there and that tells me that a lot of people love memes just like I do. Which brings me to today's post which is all about memes :)
What is a meme?
A meme is a post with a theme that more than one person posts about. Here are some examples:
Blue Monday (which is hosted by Sally) is a meme in which people post pictures that contain something blue on Mondays
Ruby Tuesday (which is hosted by Mary) is a meme in which people post pictures that contain something red on Tuesdays
Writer's Workshop (which is hosted by Mama Kat) is a meme in which you are given "prompts" (subjects chosen by the host) to write about
Hooray for Saturday! (which is hosted by me) is a meme in which you post something funny on Saturdays
See? Fun, fun, fun :)
So what do you do?
1.
Always, always, always link back to the hosts blog! It's just the right thing to do. And if they have a button that they use for their meme then include it on your post. Here's my button for my meme: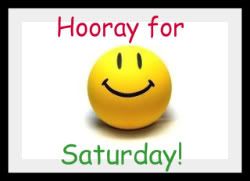 When you link back to them, you should link to the specific post that their meme is on especially if they have a Mr. Linky or MckLinky in use for other participants. The URL that you use to link back to them will look like this one from an old Hooray for Saturday! post of mine:
http://katshappyathome.blogspot.com

/2010/02/hooray-for-saturday-literal-funny.html
Notice the part I have highlighted? That is what takes you to the specific post which brings me to my next item...
2. When you link up to the meme hosts Mr. Linky or MckLinky you should always use a permalink and not just your general blog URL. I'll use my URL from above again to show you what I mean...
http://katshappyathome.blogspot.com
/2010/02/hooray-for-saturday-literal-funny.html
The section highlighted in

pink

is my general blog URL. Once I added the

yellow section

it became a permalink. A permalink is a link that takes you to a specific post. I can tell you as someone who visits other participants of memes that it is very aggravating to have to search for your meme post among all your other posts.
To find your permalink address just view your post. You can do this several ways:
a) When you publish your post it will give you the option to view your post
b) You can click on the title of your post and it takes you to that post only
c) You can go under "Edit posts" and select view next to the post you want the permalink URL for
Once you are on that post just copy the address at the top of your browser window by right clicking your mouse and selecting copy:
Then just paste the address into the Mr. Linky or MckLinky being used.
3. Visit other participants if at all possible. I know that sometimes it's NOT possible but if you can then do. There have been times that I couldn't visit anyone else and other times that I visited over 100 participants. The only exception to this for me is on my meme. If someone is actually nice enough to link up with me then I guarantee that I will visit them and leave a comment!
4. Always leave a comment for the meme host. I can tell you that comments make most people's day and a meme host is definitely no exception. Plus they want you to visit them or they wouldn't have a game for other people to join in!
5. If the meme host has something written about how they want their meme played then respect that and follow their rules. Most people don't have horrible, controlling rules. Some people only want you to use your own pictures for example (not to get one off the internet somewhere) or to give credit if you do use someone else's work. See? Not outrageous :)
So that's about all I have to say about memes except this. If you like to laugh and want to play along with me on Saturday's then please do! You can click here to read all about my meme. Have a great day everyone!